A wonderful and simple vegan dip with grilled eggplant and bell peppers!
Ingredients
2 eggplant
2 bell peppers
1 onion
1 or 2 cloves of garlic
1/2 cup cilantro optional
1/2 cup parsley optional
1 tbsp. pepper paste
1 tbsp. tomato paste
1/2 cup olive oil
pine nuts for garnish
salt
black pepper
Directions
Use a fork to puncture holes in eggplant and grill both the eggplant and bell peppers until charred.
Remove from grill and peel off the skin.
Chop the eggplant and bell peppers into large pieces. (Clean skin and insides–including seeds)
Use a paper towel to wipe off any residual seed or skin.
Chop onion and garlic.
Chop cilantro and parsley-about 1/2 cup combined (optional).
Add bell peppers into food processor and blend (empty into a bowl and set aside).
Add eggplant to food processor and blend.
Add 1/4 cup olive oil to a skillet and add onions.
Sauté onions, add chopped garlic.
Add pepper paste and tomato paste, mix.
Add chopped bell peppers, thoroughly cook bell peppers.
Add eggplant and continue cooking.
Add parsley and cilantro (optional).
Add salt and pepper to taste.
Cook until excess liquids have evaporated.
Garnish
Olive oil
Chopped Parsely
Pine nuts
Serve with pita chips, pita bread or baguettes! Your choice!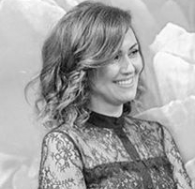 Shushan Darzian is the founder and owner of Ladybugs Catering & Events. Her passion for food, presentation and exquisite detail drive her mission to provide outstanding service for her clients. As a former educator, she is committed to life-longing learning and loves to travel. She resides in Southern California with her husband and two sons.
https://ladybugscateringandevents.com/wp-content/uploads/2020/01/IMG_4692-scaled.jpg
2560
2560
Shushan Darzian
https://ladybugscateringandevents.com/wp-content/uploads/2022/11/Ladybugs_logo_Fall_Set-300x100.png
Shushan Darzian
2020-04-23 18:36:40
2020-07-01 17:36:10
Recipe: Ikra